The Stratos developers association was created to serve as a meeting point for all hispanic game and multimedia developers and help them enhance their activities.
Antonio Arteaga and José Carlos García founded Stratos in 1997. After developing various activities in the games industry and contacting with many groups, individuals and companies in the Spanish geography, they decided to create a common entity to serve as a meeting point for all developers and to support and enhance the various projects carried out in Spain.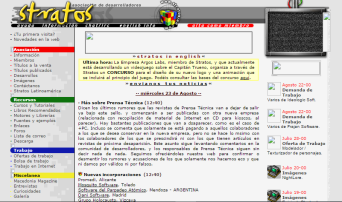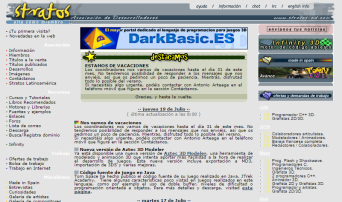 After starting with 7 groups and publishing the first projects, Stratos grew incredibly. In 1999, Stratos reached more than 300 member groups and started capturing great interest in Latin America. Stratos continued to grow until 2002, when a crisis broke out because of problems with the publisher Crystal Interactive. The founders decided to permanently close the association but kept this website as a meeting point by popular demand of the huge developers community participating in Stratos.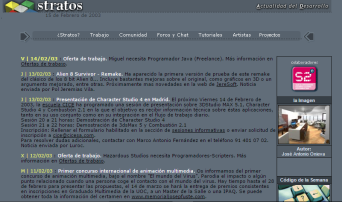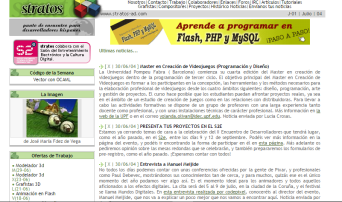 David Font "synchrnzr" joined Carlos and Antonio to help with the portal management, firstly caring about the forums and ending up coding the site's current version and general administration thanks to some members help in Stratos in the forums' moderation, like [EX3], seryu, Guybrush Threepwood, Nae, Vicente, TheAzazel, Prompt, Loover, BeRSeRKeR, ethernet, flipper83, Vicente and RobiHm, and thanks to Nae and indieesepe's help in the communications area. After its association stage, Stratos it's a hispanic game, animation and multimedia development world leader portal, specially in Spain, having hundreds of registered companies posting their jobs in Stratos, one of the more important forums in its fields and having helped in many events' organization like S2e or Campus Party's development area.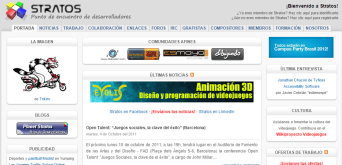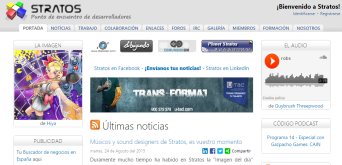 Nowadays Stratos, as a portal, keeps intact the unifying spirit of its origins as an association and its motto: "Together, we can achieve anything. Alone it's almost impossible."